Winning Mindset of a Formula Driver Converted to Leadership
"I WANT TO ACHIEVE UNACHIEVABLE" — AYRTON SIMMONS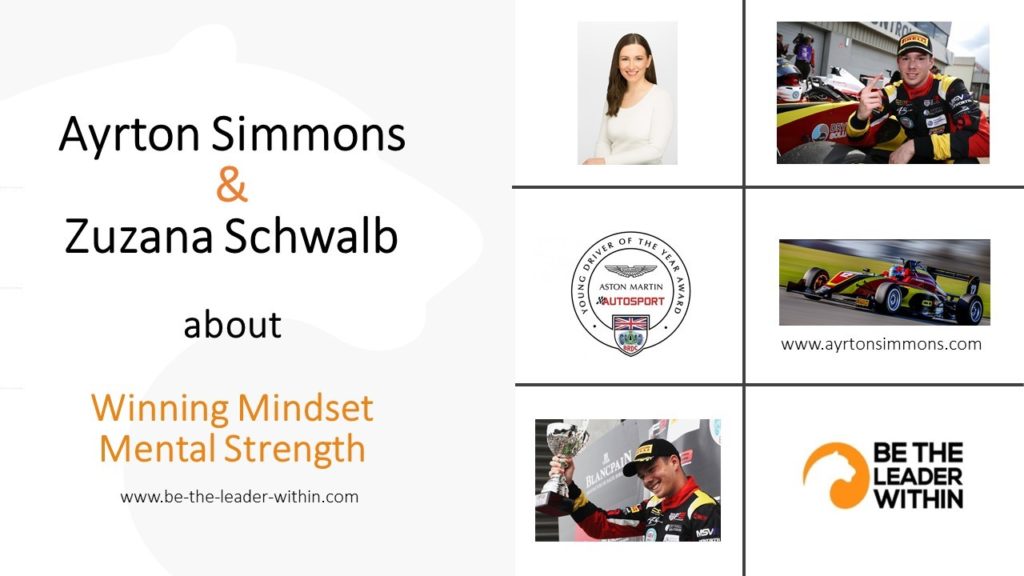 Last year I was contacted by the agency representing Ayrton
Simmons for a potential collaboration. Before getting to know
him, I read online articles about his awards and achievements and
watched YouTube videos from his formula racing series. However,
only when I got to speak to him I realized: he was unconscious
competent when it comes to his mindset.
Throughout my career I met only people who were gradually
working towards their goals by learning about their mindset,
upgrading it and gaining knowledge & experience in their field of
expertise. Ayrton is different. His set of automatic thoughts and
beliefs told me he's got a naturally formed winning mindset. As a
18 year old guy, born in the UK, he is passionate about winning
and his achievements as a formula driver. And despite his
successes, Ayrton is grounded and determined to get to and win at
Formula 1 .

And Ayrton is continuously growing his mindset.
He is so open to learning new things, perspectives and getting
better as a person & formula driver. But what truly amazes me
about him is his endless intention to enjoy himself and
holding on the feeling of success while racing.
You might ask: what is so great about that? And how is it related
to leadership & success? Here comes the answer…

There are many psychologists, researchers and high
performance coaches who claim that if there is one simple secret
to the operation of our unconscious /subconscious mind (some
call it success mechanism) is to call up, capture, evoke the
feeling of joy and success. Because when we feel good,
successful and self-confident, we act successfully. This
feeling sets our internal autopilot to be set for success. And Ayrton
is the living proof of it, he has been doing it without knowing it.